THAT'S A WRAP – ROLLING OUT THE TRACKWAY® AT CONEXPO EXHIBITION, LAS VEGAS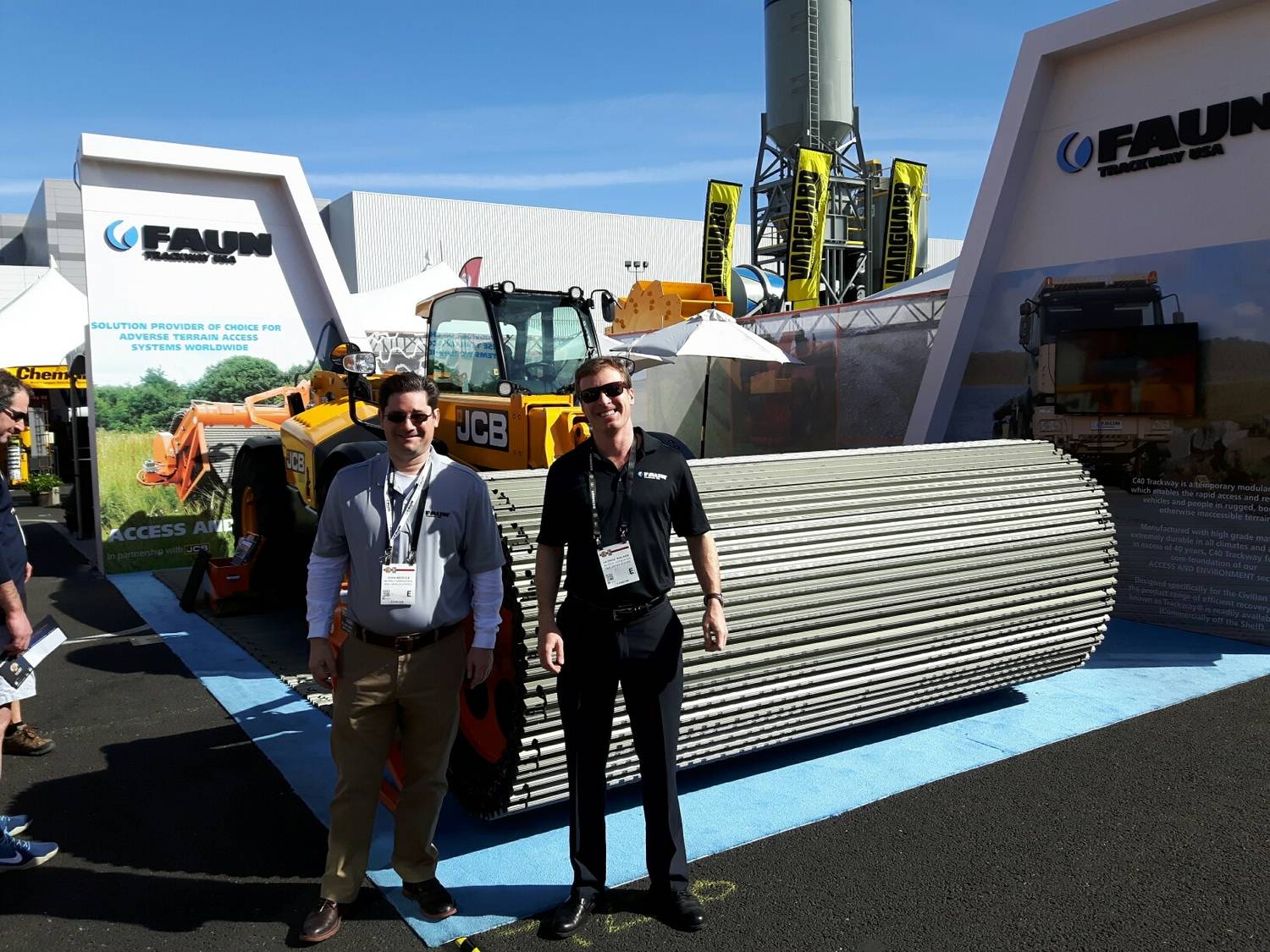 The FAUN Trackway USA® team have this month returned from exhibiting for the first time at CONEXPO 2017.

CONEXPO is the world's most major construction industry exhibition represented amongst 2,500 plus exhibitors with over 2,500,000 square feet of exhibition space (13 miles!) seeing over 140,000 visitors from across the globe attending the show over the course of a week. Lastest innovations, technologies, equipment, products and services concerning the construction industry are showcased at the show which is why CONEXPO is considered as one of the most informative exhibitions focusing on construction and construction material industries.
FAUN Trackway USA® team launched our brand new ACCESS AND ENVIRONMENT sector to the construction industry and demonstrate our static display of our ROADWAY DISPENSER unit, attracting countless visitors to the stand, spreading the word of our world leading expedient access solutions.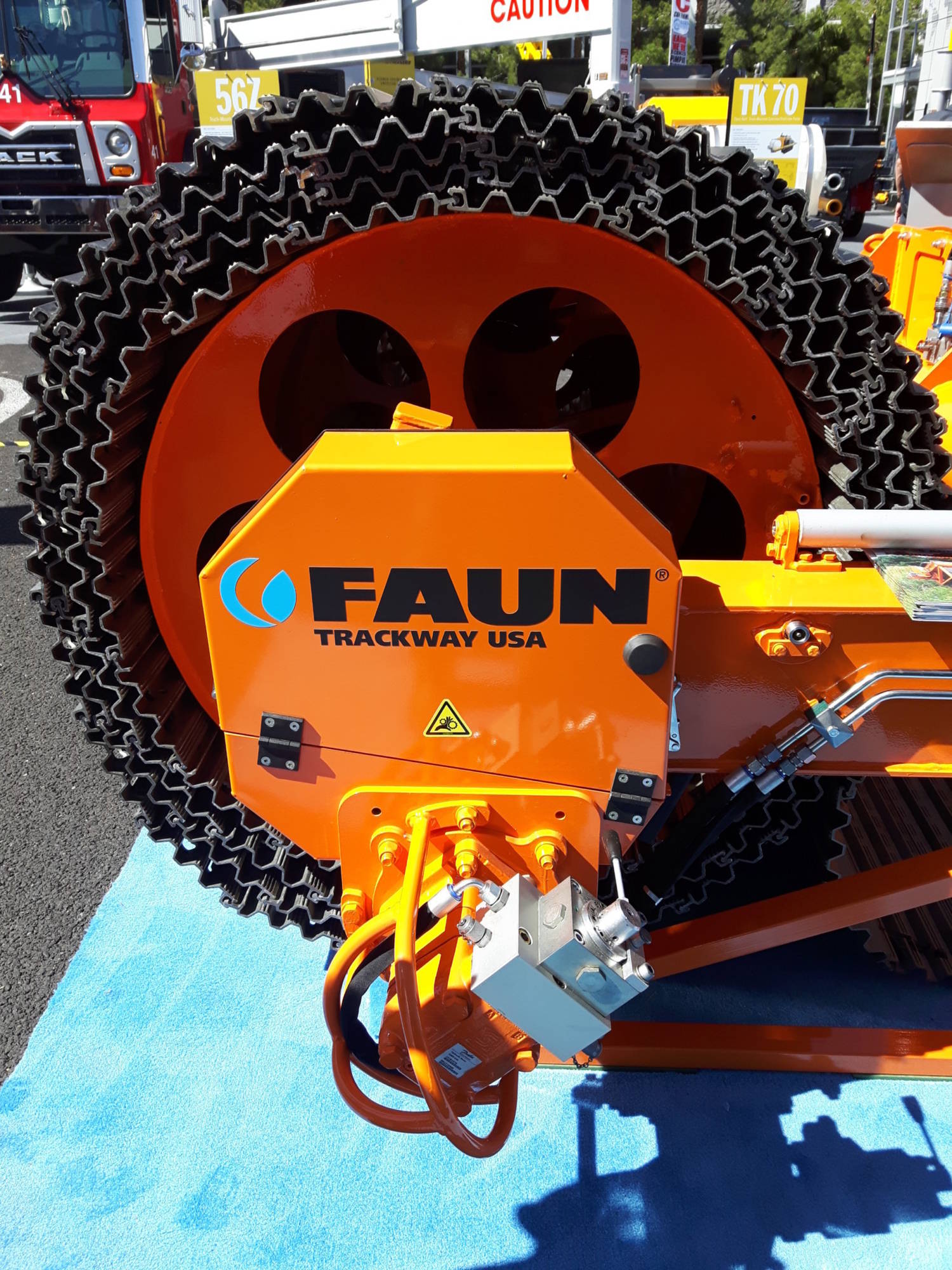 Alongside our President, Chris Kendall, Vice President Mike Holdcraft and Product Support Engineer, Neil Wigley, FAUN Trackway® were delighted to be supported by our ACCESS AND ENVIRONMENT sector consultants John Mercer and George Walker from Mercer Associates.
As well as Mercer Associates, Jim Wank and Mike Scharra from Defense Products Marketing part of the Command Holdings Group joined the team, a continued partnership whereby FAUN Trackway® USA, Inc. and DPM collaborate to attend a number of US exhibitions throughout the year.
The predominant attraction drawing visitors to our stand was our impressive static display of our C40 ROADWAY DISPENSER; a deployment, recovery, transportation and storage device for up to 131' 3" of C40 Trackway®.
C40 Trackway® offers a tough, durable solution for rapid access and recovery for vehicles and people in rugged, bogged down or otherwise inaccessible terrain.
We were delighted to have partnered with JCB at CONEXPO, displaying the C40 Roadway Dispenser on a JCB 560-80 Agri-Loadall (American designated 512-26 loadall) to provide a full turnkey package. Mounting the beam dispenser to a host machine via a bespoke adapter plate and quick release coupling allows one operator to deploy the C40 Trackway® in less than five minutes over the toughest of terrain.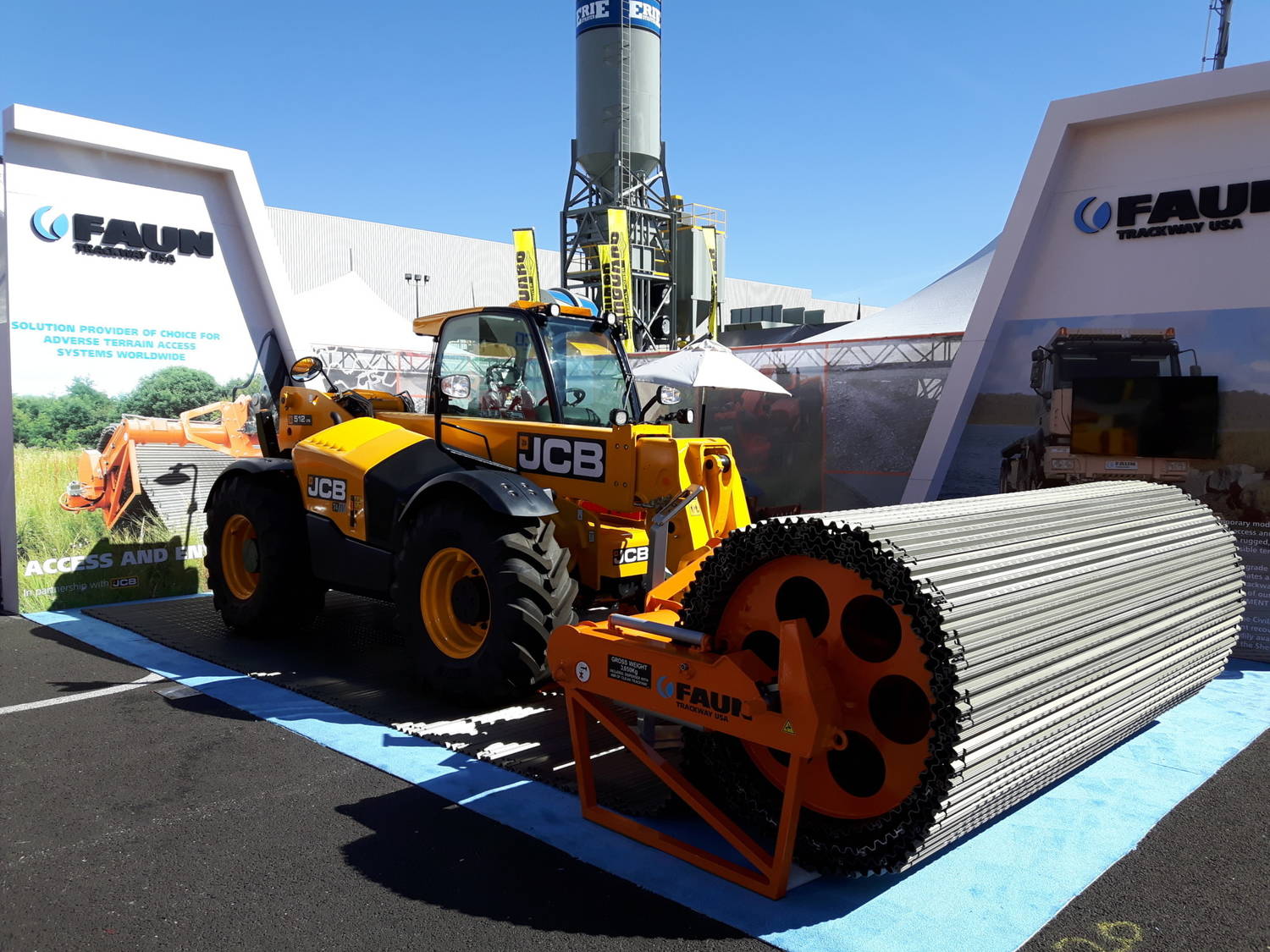 Neil Wigley, Product Support Engineer, arrived on site almost a week before the start of the exhibition to integrate our ROADWAY DISPENSER to the JCB machine.
Many pieces of equipment were already being sited at this point. The JCB team were excellent and the Loadall turned up as planned. The Beam Dispenser was integrated in three minutes and the complete machine was on stand within the hour
​​Neil Wigley, Product Support Engineer,
When visiting FAUN Trackway® USA and speaking with our representative, companies were most interested in an alternative matting to wood or plastic for soft ground or inaccessible terrain access problems which was stronger, more durable, longer lasting and economical for purposes including; heavy machinery movement, underground services, groundwork's, demolition and pipeline access.
Main FAQ's included;
Weight: Complete unit with 40m Trackway - 3650kg, just C40 Trackway®, 6,769lbs.
Time to deploy/recover: Deploy in three minutes - recover in six minutes
Splitting and joining: Three to five minutes
Spool changing: Seven minutes
Logistics' of continual lay: Consideration to be given to passing and turning areas.
Will it manage tracked vehicles/grousers? Yes, when used with a sacrificial top surface.
Price – Unique in the market place therefore price on application. There are no other commercial aluminum roll up options available to buy in the market.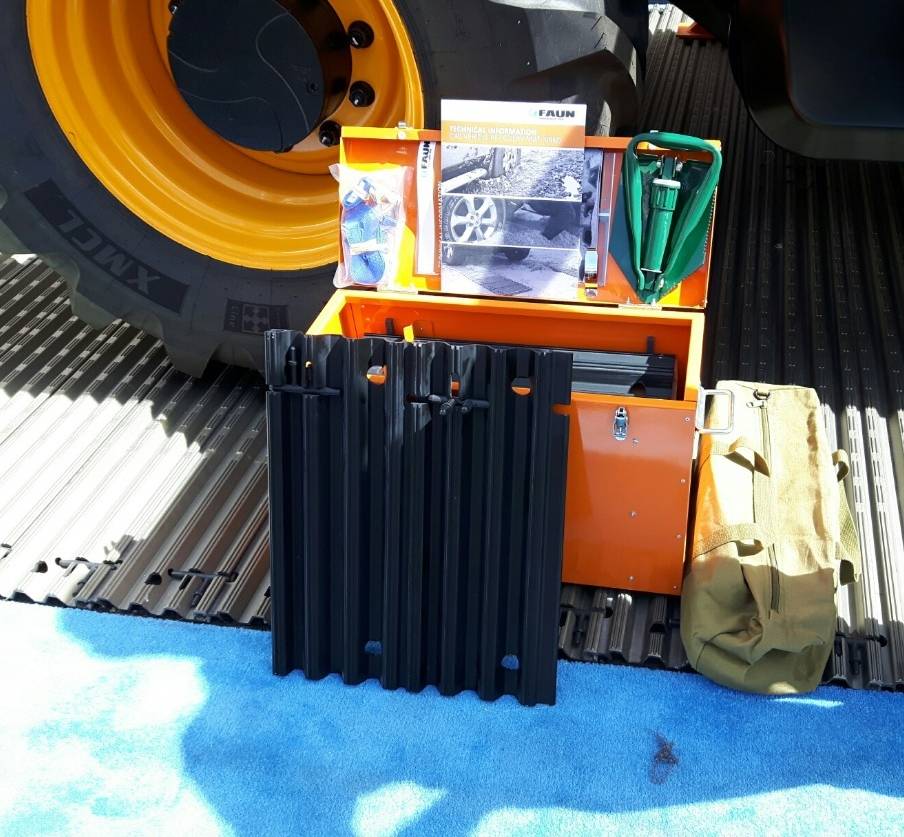 Designed specifically for the civilian market our C40 Trackway® creates a temporary modular roadway suitable for vehicles up to a max-axle, single-axle load of 28,655 pounds making it an ideal solution for a variety of applications including; oil and gas pipeline access, mining access, construction projects and temporary bridging.
Manufactured with high-grade materials, C40 Trackway® is extremely durable in all climates. Built to withstand multiple deployment and recovery the roadway is suitable for constant reuse with a lifespan in excess of 40 years.
The modular system allows the roadway to form to the ground conditions, and can be easily split and joined together to create custom lengths to suit any location or environment.
Our system is 95% recyclable, and the open profile is easily cleaned, minimizing retentions of mud and debris, eliminating contamination issues
Whilst at the show, Team Trackway® collated a number of business cards further to meetings and stand visitors, all of which have been entered into our exciting prize draw to win a Vehicle Recovery Mat. The winner is to be announced in the coming weeks with shipment direct to them of their prize.

FAUN Trackway®​ are the solution provider of choice for adverse terrain access systems worldwide. We were delighted to launch our ACCESS AND ENVIRONEMENT sector at the largest tradeshow in the world for the construction industry, CONEXPO!
Mike Holdcraft, Vice President at FAUN Trackway USA, Inc.
As a result of attending CONEXPO we have improved awareness of our ACCESS AND ENVIRONMENT sector and products to US, Canadian and worldwide industry leading companies leading to a significant number of follow up conversations.
The FAUN Trackway USA, Inc. team will next be exhibiting at IBAS - booth 41 next week, 29th March - 2nd April, then straight onto LAAD - booth P.28, April 4th-7th and AUVSI in Texas - booth 4101 April 8th-11th and thereafter will be counting down to another of flagship exhibition AUSA in Washington in October!